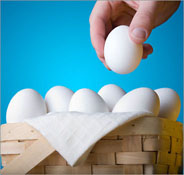 Sick of hearing this? "Don't put all of your eggs in one basket!". Diversification is the single most important element of building an investment portfolio. Wondering how to evaluate your prospective portfolio for its risk? There is a qualitative way for you to quickly assess your choices for your portfolio through a little logic and some thought about correlation.
CSI's Correlation Reports take the guess work out of your choices. CSI's data servers search hundreds of thousands of pairs each day, and compute the level of correlation over periods that range from 2 to 40 years into the past. This massive daily computing effort is completed minutes after world markets close daily. We suggest using a default of a 15 year period. Customers can search for trading opportunities between any proposed pair of markets, and uncover the merits of trading. The primary way we use to compute the correlation coefficient is Spearman's ranking method.
Coming Soon: Portfolio balancing is a starting point to the powerful "Position Manager with Projectory Filter Technology". Once your portfolio is balanced, you can take your portfolio and add it to Position Manager. There you can see how it would trade your portfolio in demo simulation mode and see simulated profit results over the last 10 or 20 years.