Cash contracts are available for many, but not all commodities. Often just one daily cash price is offered. Cash prices can be included as a separate choice by selecting them here.

To create a cash commodity chart, begin by selecting the market or markets and making other common charting selections as described in the "Futures Charts" topic.

From the center region of the Selecting Data Series screen, click the "Cash" tab, which is fifth from the left (see below). Our example shows a selection screen for CBT Corn, CSI #9, symbol C.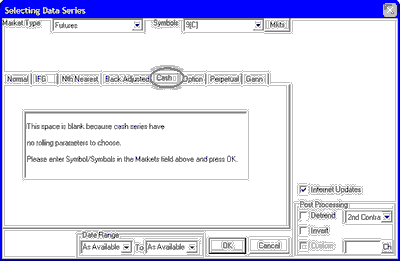 As stated on the screen, there are no user-defined settings for cash series.

Common Settings


Detrending is not necessarily recommended for cash prices because distortion is unlikely. Be sure to adjust the date range and post processing settings (if desired) as described in the "Futures Charts" topic before finishing your selection.

Click [OK] to display your chart(s).


---
Alternate Ways to View Cash Prices


When cash prices are available for a given market, the Individual Futures Group (IFG) selection screen also offers "Cash" contracts. That choice delivers the same result as this one.

The right-click chart menu offers "Display Cash," which superimposes the corresponding cash series into any futures chart. The "Display Cash" feature requires that "Always Retrieve the Cash/Nearest Future" be selected from Charting Preferences, and that cash prices are available for the selected market.


---

See the Chart Interpretation & Manipulation chapter for information on managing your chart. Consider using the "Save to Portfolio" feature to save your charts for future use.