UA allows you to maintain multiple portfolios, each of which is a list of normal, computed and/or continuous contracts or stocks to be followed on a regular basis. They typically hold the nearby current contracts of several commodities, plus computed contracts such as adjusted continuous and cash. A stock portfolio might list all stocks of interest.

UA will display a list of vendors who have supplied customized portfolios. Your software vendor, Delta Society International, has supplied CSI with specifications to automate portfolio selection. Click the box for Delta Graphics or One Day at a Time and then click [Next].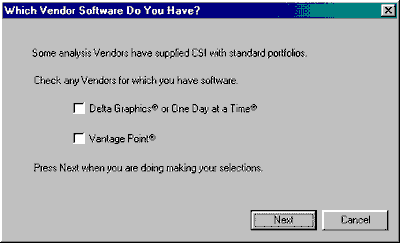 Then Unfair Advantage offers the option of pre-loading portfolios that exactly meet the needs of Delta Graphics and One Day at a Time users. You can select either one or both choices here:
| | |
| --- | --- |
| · | Click "Commodities" if you will be using the Commodity version of either Delta Graphics or One Day at a Time. |
| | |
| --- | --- |
| · | Click "Stocks" if you will be using the Stock version of Delta Graphics or One Day at a Time. |

The UA files will be decompressed and copied to your hard drive. The copying process may be lengthy (five to ten minutes) and is followed by the Unfair Advantage program group displaying.

During the installation process, UA offers to manually set your computer's VCache. Manual setup is typically beneficial to users with new computers that have the Windows ME operating system. Select [Yes] or [No] according to your preference.

A warning box displays after installation is complete asking you to reboot your computer. Click [Yes] to automatically shut down and restart your computer.

Once your computer is rebooted, you'll be ready to launch UA and update the database for the first time. Please have your CSI User ID and User Number handy so that you can customize the software for data retrieval. These are found on the sticker on the inside of the UA CD-ROM sleeve. You will be prompted to enter these the first time you launch UA.