Use the "Edit" feature to change the input parameters or even the programming code of a study that has already been applied to your MarketScan file.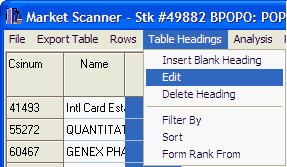 First click the heading for the study you want to edit, and then click "Edit" on the Table Headings menu. The Code Editor Screen displays.

You can easily change the parameter settings here, as you might have done when selecting the study. See the Code Editor topic for details on editing the program.

This feature is only functional for indicators and does not allow you to edit other headings.