Post processing refers to data manipulations that can be done to time series after they are compiled, but before they are displayed or written to disk. Post processing features are found on the lower right-hand corner of the Selecting Data Series screen as shown: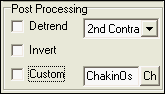 Your most recent Post Processing choices on the Selecting Data Series screen will be the default choices for your next market, so be sure to review these entries to make sure they always reflects your preference for the current market you are selecting.

Each Post processing feature is explained separately in the following topics:



---

Once your preferences for Post Processing (if any) are recorded, check to make sure all the other entries are as desired.

When you are satisfied then click [OK] at the bottom of the Data Selection screen to record your portfolio entries.

Click here if you experience an error with your portfolio.

See the Manipulating Your Portfolio chapter for more information on UA's Portfolio features.