If your chosen Market Type is "Stock/Mutual/Indices," then the only tabs in the center of the "Selecting Data Series" screen say, "Stock" and "Option."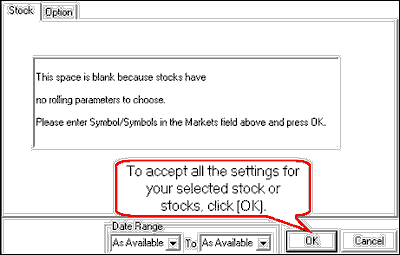 As you can see from the on-screen message, stocks, indices and funds require no further settings - unless you are requesting a stock index option. These are available from CSI as a separate subscription category, so they are not automatically available to all stock subscribers.


Click [OK] to record your selection in your portfolio.


---

For information on Stock Index Options, click here.
For information on problems with symbols, click here.