Unfair Advantage comes with a complete online manual that you can read from your computer screen. To view, click the Help menu from the main UA menu, and then click "Help Topics." The following displays: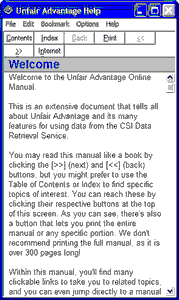 Click the [Contents] button at the top of the Help window for a full listing of the manual content. The chapters shown in the Table of Contents hold various sub-chapters and topics relating to different aspects of Unfair Advantage.

You may search for a given topic by clicking the [Index] button and typing your search key. Double-click any chapter or topic to reveal its content.

Use the scroll arrows at the right side of the window as necessary to view the full content of your selected topic. If you prefer, you can view the manual in a larger format (filling your computer screen) by clicking the square box at the upper right-hand corner of the help window. This will maximize the help topic. To revert to the smaller size, click the box again (although it will now have a double-box appearance). You can re-size the window by dragging and dropping its frame.

Click the [Print] button to print any desired topic for future reference. (The full manual is over 300 pages!)

Click the [Internet] button to access the CSI website for product information and support.

You'll find many underlined links throughout the online manual, which are pathways to information on related topics. Click on any link to read more on that topic. Click [Back] (or dual left arrows) to return to the previous screen or [Next] (or dual right arrows) to go to the next topic.

Interactive Help


Access instant links to the manual through the interactive "What's This?" feature described next. Click the link to view.