The Database Menu (above the toolbar) gives access to important features for maintaining and understanding the Unfair Advantage database. The top selection on the Database menu is View Posting Status. Click "Database" to drop down the menu and then click "View Posting Status" to display the current status from the CSI website.

Your computer must be connected for the Internet for this feature to work.

The Posting Status displays as in the example below. As you can see, it includes a complete Data Release Schedule and indicates which categories have been updated so far on that schedule.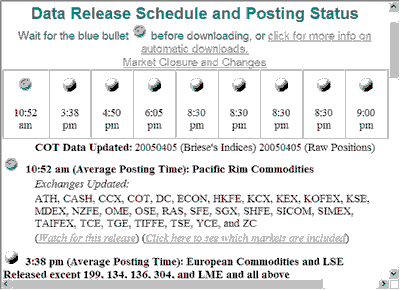 Each blue bullet represents an updated market. The example above shows that Pacific Rim Commodities were updated, but European Commodities were not at the time of the query.