[Click here to return to journal index]





Notice: The views and information expressed in this document reflect the opinions and experience of the author Robert C. Pelletier. Neither CSI nor the author undertake or intend to provide tax advice or trading advice in any market or endorse any outside individual or firm. All recommendations are provided for their informational value only. Readers should consult competent financial advisors or outside counsel before making any software purchase or investment decision. CSI does not stand behind or endorse the products of any outside firms.

© Copyright 2002 by Commodity Systems Inc. (CSI). All rights are reserved.

Website Links: This CSI website and Unfair Advantage system contain hyperlinks and automatic links to websites operated by parties other than CSI. No association with or endorsement of third-party websites should be inferred through these links. They are provided for your convenience and reference only. CSI is not responsible for and has no control over the content of third-party websites.





February 2003
CSI Technical Journal
Volume XXI, Number 2
Page 1

Topics discussed in this month's journal:


Stock Fundamentals Help Secure Your Advantage

Tech Talk
---

Stock Fundamentals Help Secure Your Advantage
Over the last couple of weeks, the CSI stock database provided through Unfair Advantage® was enhanced to include a massive fundamental database. The values are updated every week though the Stock Factsheets of Unfair Advantage 2.6.2 and higher. The additions include many securities-related facts and figures for specific information categories about each security. We went to InvestorWords.com, a respected financial lexicographer, to obtain a glossary of these broadly used terms to expand (or perhaps confirm) user interpretation of these statistical categories. We hope you find these definitions helpful.

Beta A quantitative measure of the volatility of a given stock, mutual fund, or portfolio, relative to the overall market, usually the S&P 500. Specifically, the performance the stock, fund or portfolio has experienced in the last 5 years as the S&P moved 1% up or down. A beta above 1 is more volatile than the overall market, while a beta below 1 is less volatile.

Capitalization
Definition 1: The sum of a corporation's long-term debt, stock and retained earnings. Also called invested capital.
Definition 2: The market price of an entire company, calculated by multiplying the number of shares outstanding by the price per share. Here also called market cap or market capitalization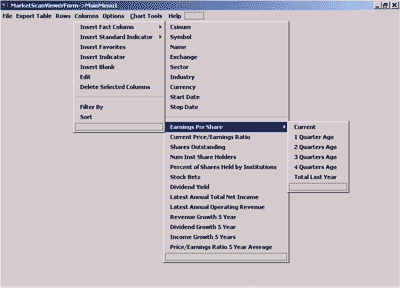 Click Image to Enlarge

The new stock fundamentals in the UA database open up unexplored dimensions to investors, particularly those who use UA's MarketScanner to sort and filter stocks.

Contract Size The quantity of the underlying security that the holder of an option possesses the right to buy or sell. For an equity option, the contract size is 100 shares (unless a split or other special circumstances have occurred).

Dividend Yield The yield a company pays out to its shareholders in the form of dividends. It is calculated by taking the amount of dividends paid per share over the course of a year and dividing by the stock's price. For example, if a stock pays out $2 in dividends over the course of a year and trades at $40, then it has a dividend yield of 5%. Mature, well-established companies tend to have higher dividend yields, while young, growth-oriented companies tend to have lower ones, and most small growing companies don't have a dividend yield at all because they don't pay out dividends.

Earning Growth A measure of growth in a company's net income over a specific period, often one year. The term can apply to actual data from previous periods or estimated data for future periods.

Earnings Revenues minus cost of sales, operating expenses, and taxes, over a given period of time. Earnings are the reason corporations exist, and are often the single most important determinant of a stock's price. Earnings are important to investors because they give an indication of the company's expected future dividends and its potential for growth and capital appreciation. That does not necessarily mean that low or negative earnings always indicate a bad stock; for example, many young companies report negative earnings as they attempt to grow quickly enough to capture a new market, at which point they'll be even more profitable than they otherwise might have been. (Also called income.)

Industry A basic category of business activity. The term industry is sometimes used to describe a very precise business activity (e.g. semiconductors) or a more generic business activity (e.g. consumer durables). If a company participates in multiple business activities, it is usually considered to be in the industry in which most of its revenues are derived.

Institutional Shares Mutual fund shares of a class available to institutional investors. Institutional shares carry no load or 12b-1 fees. (Also called Y shares.)

Price to Earnings Ratio The most common measure of how expensive a stock is. The P/E ratio is equal to a stock's market capitalization divided by its after-tax earnings over a 12-month period, usually the trailing period but occasionally the current or forward period. The value is the same whether the calculation is done for the whole company or on a per-share basis. The higher the P/E ratio, the more the market is willing to pay for each dollar of annual earnings. The last year's price/earnings ratio (P/E ratio) would be actual, while current year and forward year price/earnings ratio (P/E ratio) would be estimates, but in each case, the "P" in the equation is the current price. Companies that are not currently profitable (that is, ones which have negative earnings) don't have a P/E ratio at all. (Also called earnings multiple or P/E ratio.)

Revenue Total dollar payment for goods and services that are credited to an income statement over a particular time period. Revenue figures will usually be net of discounts or any payments that are returned to the customer or client. By subtracting expenses from revenue, a company's net income can be calculated. In terms of reporting revenue in a company's financial statements, the question of when revenue should be considered received (or "recognized") is sometimes not clear. For example, revenue could be recognized when the deal is signed, when the money is received, when the services are provided, or at other times. There are rules specifying when revenue should be recognized in different situations, and in general, companies should recognize revenue only when the good or service is fully transferred over to the customer/client, and when the amount of revenue to be received can be reliably determined.

Sector A distinct subset of a market, society, industry, or economy, whose components share similar characteristics. Stocks are often grouped into different sectors depending upon the company's business. Standard & Poor's breaks the market into 11 sectors. Two of these sectors, utilities and consumer staples, are said to be defensive sectors, while the rest tend to be more cyclical in nature. The other nine sectors are: transportation, technology, health care, financial, energy, consumer cyclicals, basic materials, capital goods, and communications services. Other groups break up the market into different sector categorizations, and sometimes break them down further into subsectors.

Shares Outstanding The shares of a corporation's stock that have been issued and are in the hands of the public. Also called outstanding stock.

Yield
Definition 1: The annual rate of return on an investment, expressed as a percentage.
Definition 2: For bonds and notes, the coupon rate divided by the market price. This is not an accurate measure of total return, since it does not factor in capital gains.
Definition 3: For securities, the annual dividends divided by the purchase price. This is not an accurate measure of total return, since it does not factor in capital gains. (Here, also called dividend yield or current yield.)

The new stock fundamentals in the UA database open up unexplored dimensions to investors, particularly those who use UA's MarketScanner to sort and filter stocks. You may now use it to set criteria for high-potential investments, whether by P/E ratio, Beta, earnings, industry, etc. or any combination of the above, and then sort according to your preferences. Together, MarketScanner, the new fundamental database facts and the unprecedented scope and size of UA's inventory of stocks and mutual funds should make CSI's security services more comprehensive than any other alternative.




Bob Pelletier


This Glossary is provided by InvestorWords.com
Copyright©1997-2003 by WebFinance Inc. All Rights Reserved.
Unauthorized duplication, in whole or in part, is strictly prohibited.


---

Tech Talk
Each month in this column, the CSI technical support staff addresses issues that may be of interest to many subscribers though this question-and-answer forum. This month they discuss making sure you have the latest version of Unfair Advantage, searching past Technical Journals on the CSI website, an error message related to the additions to the stock factsheet, installing the Borland Database Engine, interpreting UA's COT data and saving studies.

Q. How do I find out if I have the latest version of Unfair Advantage?

A. Check the CSI website under Customer Support - UA Updates. There you'll find a summary of recent releases, including the publication dates, prerequisite software versions, known problems and program changes. There's usually a clickable link to download the new version. We recommend you check this site at least once per month, and any time you experience an unexpected problem with your software.

Q. I would like to re-read an article from a past CSI Technical Journal, but can't seem to find it in the back issues. Is there a way to search the Journals online?

A. Yes. This is one of the many features of our newly redesigned website. To search all CSI Technical Journals since June 1998, click the "Search Our Site" option from the main menu and then enter your search string in the "Search Technical Journals Only" box. Click the "Search Journals" button to proceed. There's also a search link at the top of the Technical Journal Index web page, which lists all articles over this time period. We are in the process of adding many years of earlier issues to the archive.

Q. I saw an unusual UA error message recently that said, "Cannot insert a change into an empty list." What does this mean, and what should I do about it?

A. This message was used briefly to report omissions in the stock factsheets that came to light when new fundamental data found no corresponding entry. We have discontinued using the message and are assuring that stock listings are complete by re-sending full factsheets to all stock customers with each Friday's data. Depending upon the number of stocks in your portfolio, it is possible that this transmission will slow Friday's retrieval session dramatically. Please allow up to two hours on Friday evening or during the weekend for updating the factsheet. Consider doing Friday's update as an unattended session if you are bothered by the wait as UA downloads and distributes this valuable fundamental stock database.

Q. I recommended UA to a friend and helped him with the initial setup of the software. Although he got the same UA version I did, he had several additional installation screens regarding Borland Database Engine (BDE). Did he get something extra? Do I need it too?

A. The Borland Database Engine is an integral part of the new Position Manager software. It was either automatically installed along with other third-party software when you installed Unfair Advantage or it may have already existed on your drive. Hopefully, your friend followed the on-screen prompts to install and set up the BDE. If any problems occur with BDE setup or any other aspect of installation, please contact CSI Tech Support for assistance.

Q. How can I tell which graphic time-series line is which in the Commitments of Traders (COT) data?

A. We have recently added color-coding to the readout to make it easier to identify the large speculators, small traders and (in bold) the important commercial interests readings. In UA versions prior to 2.6.2, the magnitude of the readings on the chart can be matched with the corresponding end-point numerical crosshair display. Note that COT values are released and updated weekly, so they appear as holidays on non-reported days.

To get the most out of the COT data, consider a subscription to Steve Briese's insightful newsletter, The Bullish Review. See the website at www.BullishReview.com or call 888-423-4950 for more information.

Q. What is the purpose of the box below my UA charts that says, "no studies"?

A. As you know, Unfair Advantage allows you to add technical indicators (studies) to your charts. Any of these studies can be saved for automatic addition to your new charts through the selection box below the chart. To use, first create any chart and add a study. Once the chart redisplays with the indicator in place, you may add the study to a handy list as follows: 1) Place your cursor on the text box below your chart (it probably says "No Studies" or "Being Edited") and then right-click your mouse. A pop-up menu displays offering, "Add," "Delete" and "Delete All." 2) Click "Add" and a text box displays asking you to name the study template. Type a descriptive name, which might include the study type and the parameters used, in the text box and click [OK]. The name of this study template will display in the box below your chart.

To see your list of saved studies, click the arrow next to the "no studies" box under your chart. A menu will display. You can add any study listed on the menu by simply clicking it. Each subsequent chart will include the study whose template is currently active (or no study, if "no study" is selected. Your first chart will reflect the study whose template name was left in the box when last you used the software.

Q. My UA downloads take too long and I have tried all your suggestions to improve the speed. What can I do now?

A. Please send a copy of your ua\portfile.adm file to techsupport@csidata.com. This may help us identify what is slowing your transmissions and/or distributions.