[Click here to return to journal index]



Notice: The views and information expressed in this document reflect the opinions and experience of the author Robert C. Pelletier. Neither CSI nor the author undertake or intend to provide tax advice or trading advice in any market or endorse any outside individual or firm. All recommendations are provided for their informational value only. Readers should consult competent financial advisors or outside counsel before making any software purchase or investment decision. CSI does not stand behind or endorse the products of any outside firms.

© Copyright 2003 by Commodity Systems Inc. (CSI). All rights are reserved.

Website Links: This CSI website and Unfair Advantage system contain hyperlinks and automatic links to websites operated by parties other than CSI. No association with or endorsement of third-party websites should be inferred through these links. They are provided for your convenience and reference only. CSI is not responsible for and has no control over the content of third-party websites.





April 2003
CSI Technical Journal
Volume XXI, Number 4
Page 1

Topics discussed in this month's journal:


This Season's Changes at CSI

Tech Talk
---

CSI will be closed for voice communication on Friday, April 18th for the Good Friday holiday. Although U.S. exchanges will be closed, the CSI host computer will be accessible as usual. Those markets that remain open will be available for updates at their normal posting times.

This Season's Changes at CSI
"The true wisdom is to be always seasonable, and to change with a good grace in changing circumstances." - Robert Louis Stevenson. CSI, the granddaddy of database services, didn't come to our longevity by stagnating. We strive to "change with a good grace" throughout our changing times. We never have and never will expect our subscribers to settle for outdated capabilities or software. That's why we regularly enhance our Unfair Advantage software. Some recent additions to UA and the CSI Data Retrieval Service are outlined below. The reason is simple: To be the best we can be so that we can earn and keep your business.

Probably the most significant recent change in Unfair Advantage capabilities can be found in the Position Manager™ module. This nifty feature captures intraday quotes from third-party websites and reports your current account equity. Remarkably, it can handle both commodities and stocks in one or more portfolios, and can even accommodate markets traded in unlike currencies. Position Manager was added to Unfair Advantage late last year and received an extensive write-up in the November 2002 CSI Technical Journal.






More recently, we've added our own Text Viewer, which eliminates the need to view update files through Notepad or WordPad. Never again will you see a message saying the file is too big to display!

To speed data processing, we've added a new "Advanced" screen to General Settings on the Options menu. Prompts found there include two "accelerations." The first acceleration is to perform distribution in a background thread. When activated, this feature allows UA to be more responsive to "Cancel" requests during distribution. It may not be compatible with some notebook/laptop computers, however. The "Memory Map DB Files when retrieving data," option may improve data retrieval on Windows NT®-based systems by taking advantage of free memory.

An additional enhancement for users of third-party analysis software is a portfolio format option that allows you to select the parameters for creating and naming needed subdirectories (folders) when a given directory becomes full. This applies to CSI format directories that reach either the 120- or 999-file maximum and CSIM and MetaStock format files that reach the 255-file maximum.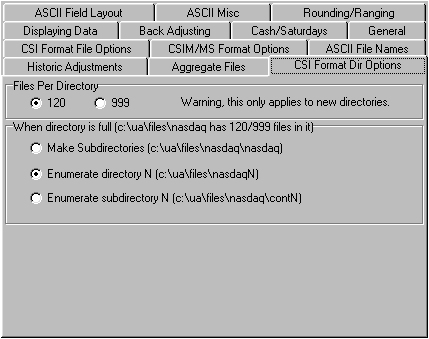 Unfair Advantage's CSI Format Directory Options screen.


To better assist you in managing your investments, we have made it easier to access the option of enabling or disabling portfolios. Upon creation, every portfolio is automatically "enabled," which means that UA will maintain its list of export files for immediate use by third-party programs. However, if you choose to "disable" a portfolio, the files listed there will not be addressed by UA on a daily basis. Once a portfolio has been disabled, you can enable it again at any time, and all files will be appended, re-written and converted as necessary upon your next update. This feature can be a wonderful time saver if your portfolio system contains lists of files that you only use for occasional analysis. It is now found directly on the Portfolio menu.

When creating weekly and monthly files through UA's portfolio manager, you have always had the choice of computing volume, open interest and cash as largest, smallest, average, last or total. Now you have the option of deciding what date will mark the end of the period. Previously, weekly files always had a Friday date and monthly files always reflected the last trading day of the month. By unsetting this flag, the date of the last bar of your weekly or monthly file will match the last day updated. After Monday's download, for example, a weekly file will have a final weekly bar that is dated Monday rather than the future-dated Friday.

Some enhancements are more related to the words we use to describe our products than the functioning of the software itself. Although new features are regularly included in the online manual, one important documentation change refers to the need (or lack thereof) for an Internet or telephone connection for the duration of data distribution. As the online manual will now tell you, you can disconnect your phone or Internet connection at any time after data retrieval completes. The distribution process can take place entirely "offline," allowing users of wireless web services, who typically pay for connect time by the minute, to minimize accessing fees. A related change allows dial-up networking customers to have UA automatically attempt to dial and automatically disconnect for each data transmission.

The UA database itself has been greatly expanded in recent months. Consider the addition of fundamental series for about 9,000 of the 30,000 stocks we report. New statistics include earnings, earnings growth, capitalization (shares issued, etc.), institutional holdings, revenue, P/E ratios and more. Of course, single-stock futures are now part of our regular fare.

As we add data scope to our offerings, we grapple with the time required to update and maintain the valuable new information sets. Voluminous weekly reports sometimes coincided with monthly capital gains and dividend reports on the 15,000 mutual funds we carry. To avoid delays caused by this massive data transfer, we are now releasing the monthly capital gains and dividend reports at a rate of about 1,000 per day. At the minor cost of a few extra days of delay, the time required to download is kept at a manageable level every day.

Despite an ever-growing list of features, the cost of using the CSI Data Retrieval Service has gone down for most subscribers, both in license fees and annual subscription rates. By offering "Professional Edition" accounts for corporate subscribers and "Personal and Private Use" accounts for individual investors, we are able to appropriately distribute the cost of providing our services.

The Account screen, found under General Settings of the Options menu, has been expanded to show all the information you'll need to monitor your account setup and accessing statistics. In addition to the User ID and User Number that have always been on this screen, it now includes a listing of authorized markets and a scrollable list of all markets showing the earliest permissible date of access.

Our website has also had a major overhaul. If you haven't visited lately, please do! You'll find an attractive new format and a wealth of information ranging from the current data posting status to stock quotes, the Online Newspaper, and current issue and archives of the CSI Technical Journal. It also offers software upgrades, links to technical support and much, much more. We are pleased to have a very competent new web master who keeps the website in top form.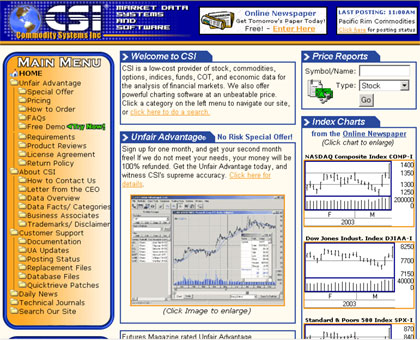 While other services may hire a programmer to write software and then rest on that finished product, at CSI we are proud to have a stable staff of talented software engineers. One is involved almost exclusively in developing Unfair Advantage, and others handle internal processing and release of data. For our customers who are adept at programming, we have implemented and continue to improve Unfair Advantage's Application Programmer's Interface (API). As discussed in the March CTJ, it opens up a whole world of possibilities for programmers and system developers who wish to use CSI data for their own applications.

Here in Boca Raton, Florida, the springtime has long felt like summer, but the general circumstances of our climate remain the same all year. For us, being "always seasonable," is to keep up with the ever-changing needs of investors. As new investment vehicles become available, we quote them and develop ways for you to glean value from the data. As promising new analysis software and techniques come on the horizon, we strive for compatibility and seamless interfacing. We are never content to rest on our laurels, because we know you expect and deserve better.




Bob Pelletier



---

Tech Talk
Each month in this column, our Technical Support Staff addresses topics of interest to many CSI subscribers. This month they discuss adding the same study to multiple Unfair Advantage (UA) charts, data problems relating to MS files used with MetaStock v 8.0, subscription renewals, historical data restrictions and restoration, and progress on PDI.

Q. If I add a study, such as RSI, to a single Unfair Advantage chart, is there a way to automatically add the same study to subsequent charts?

A. Let us count the ways:

1) From the Chart Tools menu, select "Change Data Series." You'll have the opportunity to select a new market and define the specifications for the next chart. When the chart displays, it will include whatever studies were displayed for the previous chart - all re-calculated to match the current data series. The "Change Data Series" option is also available on the right-click charting menu.

2) If your current chart was created through the portfolio manager, click the right arrow below the chart to scroll to the next item listed in your portfolio. As above, the new chart will include the same studies, all coordinating with the new price data.

3) Add the study to the favorites menu. Just create the study, then right-click the text-box below the chart (it probably says, "being edited.") Select "Add" from the popup menu, and you'll have the opportunity to name your new template. The name could be as simple as "RSI 14." The study will now be part of your custom list of easy access studies that you can add to any chart by pulling down the favorites menu and selecting it.

Q. Since learning about your website that displays the current data posting status, I have waited until everything I need has been posted before downloading any of my data. Despite this, some of my MS format export files include out-of-bounds data, and some files are not updated to the current day. What can I do to correct this problem?

A. We have asked the makers of MetaStock to provide us with an updated DLL that we hope will eliminate these problems. In the meantime, you might want to use a solution reported by another subscriber that seems to do the trick. Pull down the Options menu, select "General Settings," and then click the "Distribution 1" tab. You'll see a check box, "Append to data files when possible." If you uncheck that setting, UA will rebuild all of your files from scratch each day. We believe that this will eliminate the problem you are having with MS files that appear to be overwritten by your MetaStock v.8.0 software. This solution is most appealing to users with relatively small portfolios, as it causes an additional delay in data distribution.

Q. CSI has changed the rate schedule since I began my subscription, and my first year of prepaid service is almost over. Can I continue on at the same rates?

A. As your renewal date approaches, we will contact you by mail and offer to continue your current service level at our new rates. The annual prepayment rate may be even lower than what you paid last year, and, of course, you won't need to pay a new license fee this year. Please note that, in accordance with our license agreement, all "Personal and Private Use" subscribers now have some limits on the quantity of data that may be processed through a portfolio or the API on a daily basis without incurring additional charges. For details on current rates and to view our License Agreement, please visit the CSI website at www.csidata.com. Feel free to contact any of our marketing representatives if you have any questions or need assistance.

Q. When I renew my CSI subscription, will the quantity of historical data I can view be reduced?

A. No. All long-time subscribers who began accessing before we implemented history restrictions can access the full history of all markets in their subscription categories. Newer subscribers who are limited to ten years of history upon subscription accrue access to additional data every day, allowing the span of available history to grow significantly over time. We do not reduce the quantity upon renewal of your subscription.

When we restricted the amount of historical data supplied to subscribers, we also drastically reduced the corresponding license fees. Subscribers who need no more than then ten years of history (initially) benefit from significantly lower start-up costs. Those who need more history can pay a modest one-time fee to extend the start date as many years as needed. Our intent was and is to provide the most economical service possible and to appropriately distribute the cost of providing more extensive services.

Renewing subscribers are not subject to the historical data limitations that apply to new subscribers; however, when an account lapses and a new subscription is required, historical data limitations are attached to the new account. Renewing subscribers who experience a historical data restriction due to an inadvertent account lapse of three months or less may pay the monthly rate for the missed months to restore your former start date.

Q. I upgraded my Unfair Advantage over the Internet from the CSI website and found that it truncated my historical data. I used to have access to the full history of all the markets and now I don't. What happened and what should I do?

A. We goofed and we're sorry. The span of historical data available for access by each subscriber is controlled though a setting on the CSI host computer, and shouldn't be affected by your software version. We had a misunderstanding here about the website upgrades that resulted in the unintended shortening of historical data access. If you upgraded your UA via the website and find that your history only goes back ten years from the upgrade date, please contact Debbie in our bookkeeping department so she can correct it for you. You can reach her by e-mail at Debbie@csidata.com or by phone at 800-274-4727. See the "Account" tab of "General Settings" on the Options menu to view your start date settings.

Q. I read with great interest your article in the January 2003 issue of the CSI Technical Journal on the PDI indicator. When do you expect to have it available in UA?

A. Our initial intent was to reconstruct PDI in its original form and release it quickly. However, since the interface we developed functions outside of UA, the virtually unlimited possibilities have inspired us to produce a much more comprehensive version. The new interface allows one to code in some interpreter and/or compiler languages, and get at the entire history offered by UA through UA's API. PDI, in its finished form, will require much more effort than was originally anticipated. It will offer market analysis where many important econometric events are jointly consulted over time. As stated in last month's CSI Technical Journal, which used PDI examples to illustrate API capabilities, the distribution means is still uncertain. Because of the considerable expense and work involved, it is unlikely that this program will be a free adjunct to UA. Please watch this Journal for updates.


Notice: Unfair Advantage versions 2.6.8 and higher require Microsoft Internet Explorer version 5.0 or higher for Internet access.