[Click here to return to journal index]



Notice: The views and information expressed in this document reflect the opinions and experience of the author Robert C. Pelletier. Neither CSI nor the author undertake or intend to provide tax advice or trading advice in any market or endorse any outside individual or firm. All recommendations are provided for their informational value only. Readers should consult competent financial advisors or outside counsel before making any software purchase or investment decision. CSI does not stand behind or endorse the products of any outside firms.

© Copyright 2003 by Commodity Systems Inc. (CSI). All rights are reserved.

Website Links: This CSI website and Unfair Advantage system contain hyperlinks and automatic links to websites operated by parties other than CSI. No association with or endorsement of third-party websites should be inferred through these links. They are provided for your convenience and reference only. CSI is not responsible for and has no control over the content of third-party websites.





September 2003
CSI Technical Journal
Volume XXI, Number 9
Page 1

Topics discussed in this month's journal:


Tracking Your Investments With Position Manager

Unfair Advantage is Getting A New Look!

Tech Talk
---

CSI Marketing has a new e-mail address! Reach us at info@csidata.com


---
Tracking Your Investments With Position Manager


CSI customers are overwhelmingly market investors – that is, you are traders who seek good long- or short-term investments and put your money to work, at the very least, overnight. The majority of our customers are not in-and-out-by-the-minute daytraders, but rather market analysts who wait for opportunities to unfold. Whether your idea of short-term is six hours, six days or six months, you probably recognize the value of intraday updates to help you time crucial entry and exit points and to keep you abreast of your investments' progress over time. CSI's Position Manager, which is part of Unfair Advantage® (UA), provides spontaneous intraday quotes, charts and news, making it the ultimate individual or institutional investment partner.

Although CSI is well known as the world's preferred provider of daily and historical market data, some users may not be aware that Unfair Advantage provides real-time updates on all U.S. stocks and 20-minute-delayed data on all North American futures through UA's Position Manager module. For nearly a year now, UA subscribers have been able to receive at no extra charge current or nearly current pricing along with charts and news reports that show the intraday market activity. We understand that UA subscribers have been using this data as we envisioned: to time their trades and track investments during the day. To put it mildly, Position Manager is a big hit among our customers!

With the addition of Position Manager, Unfair Advantage has become a near-real-time tool that uses the Internet for data acquisition. It keeps traders apprised of the pricing of many of the world's most liquid markets. In anticipation of launching an electronic trade or calling a broker to consummate a trade, UA subscribers can now capture helpful information and remain poised for possible market entry throughout the trading day, all without consulting your broker for details.

A popular feature of Position Manager is its reporting of both individual market performance and ongoing account progress. The display reports an ongoing equity value for all included stocks and futures throughout the trading day. An upcoming enhancement will be displaying the net change from the previous close. Position Manager also displays financial information on foreign markets, mutual funds and options, but the prices used for these products come from UA's daily database and are not updated throughout the day. Your multi-national investments will be accurately converted to a single currency of your choice, or reported as "exchange currency," (the currency adopted by the exchange's country of origin) depending upon user preference.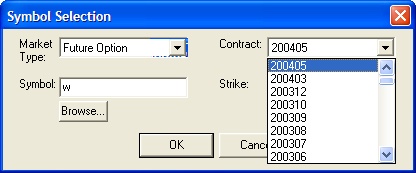 Position Manager's Symbol Selection dialog lets you choose from stocks, futures, stock index options and futures options, as available from CSI. Position Manager will let you view intraday quotes, charts and news on these series, and will keep track of your profits, losses and account equity.

Position Manager users have had the option of either entering their positions lists or importing them from a brokerage account, but soon an additional choice of importing positions directly from your Unfair Advantage portfolio(s) will be incorporated into an enhanced version. The selected portfolio will be written as a Position Manager position list, which you can edit with the details of your holdings or maintain as a simple watch list. This new feature makes it easier than ever to get started tracking current quotes.

Your trade records will include the number of shares or contracts and the direction of your trade (long or short) as well as entry and exit prices, trade dates and round-turn commission. Stop targets can also be recorded and cash deposits and withdrawals are easily accommodated and accounted for in your native currency, regardless of the host country for your collective market positions.

Position Manager can export this information to a spreadsheet or to UA's Trading System Performance Evaluator (TSPE) for system certification. TSPE randomizes the trades you enter and then simulates different sequences of profits and losses. Your capital stake and goal are important variables in the success of any trading system. TSPE tells you the odds of reaching your goal before exhausting all initial investment capital.

As mentioned above, this program lets you update quotes and balances throughout the trading day using quotes derived from third-party websites, or from day to day using CSI's pristine end-of-day database. The intraday quotes come from websites that are not affiliated with CSI; Position Manager simply directs your browser to these sites and then collects and displays the information found there. As these quotes are not the property of CSI, nor are they checked or posted by CSI, they are not stored in your Unfair Advantage database. This allows UA to maintain the solid integrity of our database, which uses only verified end-of-day pricing information for display and processing, while Position Manager gives you the advantage of intraday information. CSI reserves the right to remotely default to the CSI prior-day or end-of-day database details for Position Manager valuations should any quotation vendor limit or restrict CSI customer visits to their sites.

The Position Manager module also lets you keep tabs on breaking news as reported on the Yahoo! and INO.com websites. At your option, Position Manager will direct your web browser to these third-party sites that allow you, as an independent web surfer, to view their news stories on your selected markets.

These sites also offer up-to-the-moment or slightly delayed intraday charts that you can access through Position Manager. You may find other valuable information displayed there too. We encourage our subscribers to register with INO when requested and to explore the various features and advertisements offered on these websites.

In addition to the intraday updates Position Manager seeks out for you, this program also offers useful accounting functions. You can maintain different position lists for your various markets of interest or groups of trades, and display these lists as "Open Positions," "Closed Positions" or "All Positions." Other settings allow you to select between accounting for closed trade equity only or of including open trade equity to account for unrealized profits.

End-of-year bookkeeping is expedited with Position Manager's Long-Term and Short-Term Capital Gains reports. These reports identify all closed out positions that fit into these categories based on how long the positions were held. This information will assist you in preparing your annual tax return, and in planning ahead for next year's trading pattern. Check the CSI website to make sure you have the latest version of Unfair Advantage. This will assure the most current Position Manager as well. You can launch Position Manager from UA's Trading Tools menu or through your computer's "Start" menu. You may find that Position Manager's updates are sufficient to replace the quote machine on your desk, allowing you to save hundreds of dollars per month. UA gives you basically the same thing (more or less live quotes) plus a database of world markets from as little as $1 to slightly more than $4 per day. UA can keep you better informed and far better off, considering the scope of markets and depth of content.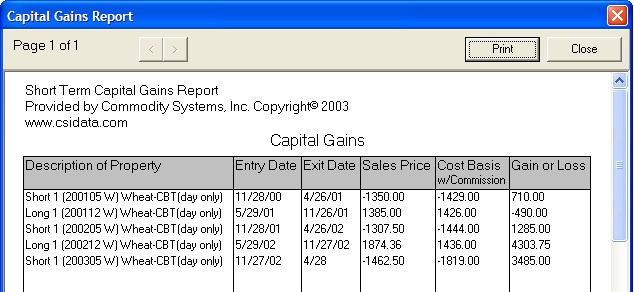 A short-term capital gains report from Position Manager.

We firmly believe that investing in the markets is a great way to put your money to work for you, and that you can increase your odds of success by careful evaluation of the statistics at hand. The intraday quotes made available through Position Manager, along with the program's accounting capabilities and export features, are valuable tools in the quest to reap profits, monitor investments, and control risk.





Bob Pelletier




---

Unfair Advantage is Getting a New look!
Your next UA upgrade will likely sport a snazzy new toolbar that better reflects today's technological environment. For instance, the telephone icon that originally prompted a dial-up connection has been replaced by an image representing the World Wide Web. Although the icons will look different, their functions are unchanged. You can still hold your mouse over any of them to display a description. Look for the new toolbar in UA version 7.2 and beyond.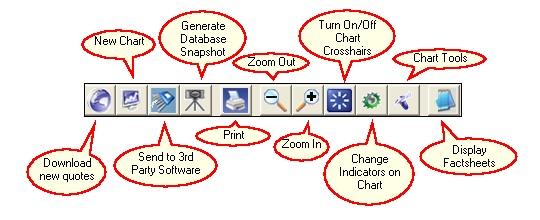 ---

Tech Talk
Each month in this column, the CSI technical support staff addresses issues that may be of interest to many subscribers through this question-and-answer forum. This month they discuss the Northeastern blackout, various aspects of using Position Manager and proper handling of MS (MetaStock) format files.

Q. Was the CSI database adversely affected by the power outage of mid August in the U.S. Northeast and the Canadian Southeast?

A. In spite of the massive power failure, CSI was able to post our preliminary stock data at 4:45 p.m. Eastern Time, roughly 1.5 hours earlier than any other competitive source. Our site was not impacted by the outage in any way. We enjoy the security of Florida's stable power grid, as well as a large on-site generator that automatically kicks in whenever a power failure occurs.

The power outage struck after the eastern exchanges had closed on Thursday (8/14), and all but the Amex stock exchange managed to open Friday morning for business as usual. Even Amex managed to open for a brief trading period, so valid open-high-low-close price quotes exist for all exchanges. You'll find them all accurately reported in the UA database.

Q. Can I chart the data I receive through Position Manager with my UA software?

A. Yes and no. Yes, you can view charts of intraday data, but these charts are created and stored by third-party websites. You can view them through your browser, as directed by Position Manager. The UA software only generates charts for the end-of-day quotes stored in the UA database.

Q. Why do advertisements pop up when I'm running Position Manager?

A. These pop-up ads and other on-screen messages make it clear that the charts and intraday data are collected from outside sources on the World Wide Web, not your copy of the CSI database. As with any unrestricted website visit, the price of admission is being counted as a hit on the website and a peek at the advertisements found there. Position Manager lets you obtain timely information by taking you to appropriate sites. We don't suppress advertisements because we believe the intraday quotes are more than worth the inconvenience. Be sure to read and abide by the copyright restrictions and provisions of those vendors, which are posted on source sites.

Q. How does Position Manager handle price updates for markets traded in different currencies?

A. Position Manager can convert overseas price quotes into a single currency of your choice. This allows the account valuation to correctly show your balance in your native currency. A few mouse clicks will allow you to switch between your native currency and the currency of origin. Profits and losses may be viewed in points or currency.

Q. Does Position Manager automatically update intraday quotes?

A. Yes. Position Manager will automatically seek out new quotes from off-site sources about every thirty seconds. Click the "Refresh" button to manually update them at any time. Alternately, you can set the software to avoid Internet updates, which will default all quotes to the end-of-day updates stored in your CSI database. If only UA data is to be used, be sure to update your UA database with current prices before launching Position Manager.

Q. Can Position Manager accommodate margined investments?

A. Yes, as long as the same margin percentage applies to all markets in a given portfolio. Margins are handled through "Preferences" on Position Manager's Settings menu. The software allows you to store and evaluate groups of investments individually through multiple position lists (portfolios), so you can have different lists for margined and non-margined trades. Whenever you launch Position Manager, the last position list you viewed will display. You may choose another by clicking "File" from the tool bar and then selecting from the existing lists.

Q. I exported some futures contracts to MS format files with Unfair Advantage for use with a third-party program. I did a little file maintenance to get rid of unwanted contracts and now find that some deleted files are still represented in the Master File Directory. How is this possible?

A. The MS format files created by Unfair Advantage are actually MetaStock® format, which means they are intended to be used with MetaStock (or compatible) software. These files use a master record in each directory to identify the files residing there. Each price series and its corresponding control information are stored in two related files (one ends in .dop and one ends in .dat) and other files. The only way to properly delete or move any of these files is through your MetaStock software or a similar compatible program that knows how to modify the master, emaster, .dop and .dat files correctly. Randomly deleting individual files through your Windows browser may shift contracts around in the list without modifying the master directory to reflect the change. The result is as you described.

To fix the problem, let Unfair Advantage create new export files for your contracts of choice, and then handle file manipulation with appropriate third-party software after the conversion.