Data distribution is the process of appending all the current data received in your download transmission to the compressed database stored on your computer's hard drive. It is a necessary step in maintaining a sound database. The software comes to you configured to automatically proceed with this step without further prompting if either Internet or Direct Dial Access is used.

If you configured UA for "Browser" access, you'll need to initiate data distribution manually through the Database menu. (Click the Database menu, then click "Manual Database Distribute.")

Note that a connection to the Internet or a telephone hookup is not needed during the distribution process. If it is important for you to minimize online time, you may manually terminate the connection any time after distribution has begun. You can arrange for automatic termination of your Internet connection through the "Distribution 1" screen of General Program Settings from the UA Preferences menu. Some hardware configurations require manual call termination, so please check to see if this feature works for you.

The Distribution Screen


By default, the distribution screen chronicles UA's progress as in the example below. You'll note it shows the date for each day processed (in a 4-digit year, month and day format) and identifies the actions taken for that day. The screen will show each trading day updated, from the date of your last update through to the most recent day available. "Applying daily price updates" displays while UA is appending existing files. If you are downloading stock data, a daily summary of advancing and declining issues can also display in a separate text viewer window. A "correction" can be any data bit that modifies a data file, including the addition of capital gains and distributions. True error corrections are infrequent due to the rarity of errors in CSI data transmissions.

A distribution screen: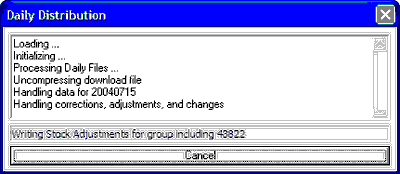 Retrieval and Distribution Time


The time required for your first download and distribution will depend upon the number of days to be updated, the scope of your database, your portfolio content and the quantity of export files to be built. A lengthy data series may take two hours or more, especially if commodities, stocks and options are updated. Please be patient and allow UA to complete its download and distribution. Once the data is stored on your hard drive, you'll have quick, easy access to the entire history of all your markets. You can avoid lengthy updates and distributions in the future by keeping your database relatively current through regular updates. We recommend daily updates.


Weekly Stock Specs


Each Friday, stock subscribers receive updated UA Stock Market Specifications. These include an extensive fundamental database that adds great value for evaluating investment opportunities. This database can slow distribution significantly. If you are bothered by the length of time required for distributing Friday's data, please consider using UA's Autoscheduler for an unattended retrieval session at a convenient time.


Cancel/Finish Later


The [Cancel] button at the bottom of the distribution screen changes to [Finish Distribution Later] as the process nears completion. Click either of these buttons if you need to stop the distribution process. In either case, you should perform a manual data distribution before your next retrieval session to avoid an unnecessary download. Note that distribution will resume at the same spot next time only if [Finish Distribution Later] is selected.

The distribution screen may be covered by News Headlines. This is a handy CSI service for keeping on top of financial news.