UA allows you to print charts as well as various lists and tables, some of which are processed according to your Printer Setup.

To view or edit your print selections, click the "File" menu at the top, left of your screen, then select "Printer Options." A screen like the following will display, but your own default printer will be listed in the "Name" box.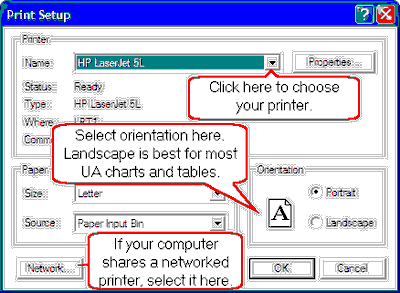 The above is a standard Windows printer dialog. Select the appropriate printer and adjust printer properties and paper size, source and orientation as desired. Click [OK] to save your changes.

Some UA output, such as portfolio listings, cannot benefit from the Printer options. All tables are automatically printed in the most appropriate size and orientation.