You can clear studies from your UA chart in several ways:

1) From the Chart Menu above the Unfair Advantage toolbar, click "Clear Studies from Chart," "Clear Study Template Selection" or "Clear Chart Tool/Annotation, as appropriate to your application: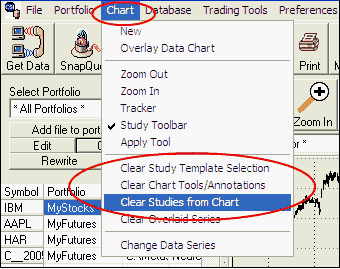 2) If the studies were added through the study templates, you can also clear them by returning to the study template selection box below the chart and selecting "No Studies" from the menu.

Exiting the chart will remove the study, but "Change Data Series" (at the bottom of above menu) will not. The replacement series will be displayed with the same study, recalculated for the current data.


---
This topic completes the "Chart Interpretation & Manipulation" chapter.


See the Study Toolbar chapter for information on adding studies to your chart.