The Interpreted Studies menu includes many function calls and subroutines that may be helpful in your own analysis. Here is a summary of many of the offerings in the program file (\UA\studylib.*) as well as tips regarding user input for each. These helper programs are mixed with analytical studies in the file, but all are listed alphabetically.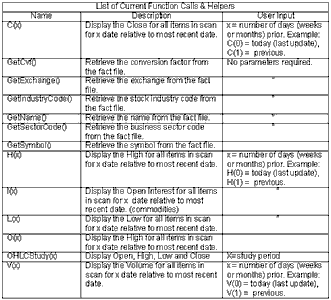 Advanced Technical Indicators
The following studies are included for your investigation. They may be modified and tested as desired, but your results should not be considered trading advice from CSI. The brief descriptions give you an idea of how the studies might be used, but do not include a list of the necessary qualifiers and limitations that should be considered before trading. For full disclosure of each of these indicators, please review the programming code through the Code Editor. See the suggested references or other trading guides for more information on interpretation of these indicators.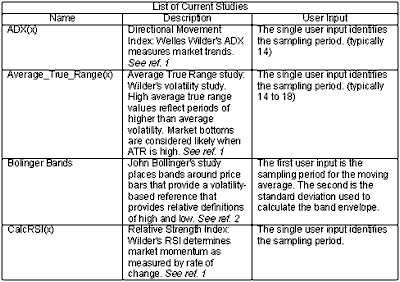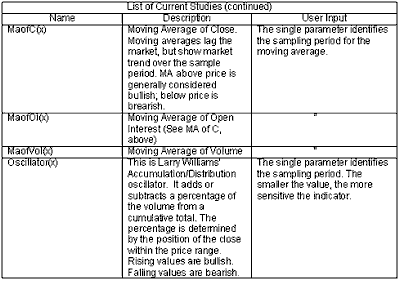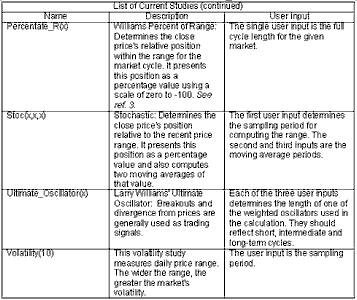 These studies and more are part of the Online Study Libraries. Click here to learn more.

References:
#1 See www.bollingerbands.com
#2 Several of the indicators used here were developed by J. Welles Wilder and introduced in his book, "New Concepts in Technical Trading Systems," Greensboro, NC; Trend Research, 1978.
#3 "How I Made $1 Million Trading Commodities" by Larry Williams, Windsor Books, 1979.
#4 "The New Commodity Trading Systems and Methods" by Perry J. Kaufman, Wiley Trading Advantage Series, 1998.