The Study Toolbar is a gateway to market analysis. The toolbar provides access to a large number of sample studies that were provided with Unfair Advantage and also allows you to edit these or even write your own software for custom analysis. A major benefit of the toolbar is that it saves your list of favorite studies (including customization) so you can easily access them.

To reach the Study Toolbar from a UA chart, click the Chart Menu at the top of the screen and then click "Study Toolbar" as shown below.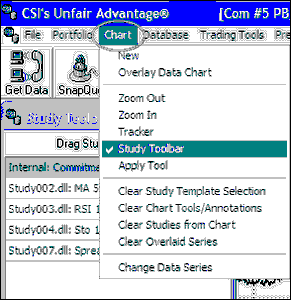 Alternately, click the "Indicators" button on the Chart Toolbar:







The example below shows a sampling of studies that may be listed when you first receive Unfair Advantage. You can select any of these to add to your chart and may customize the list to show your favorite studies.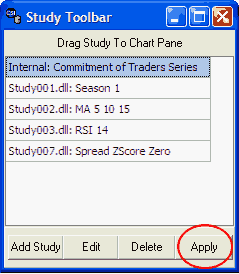 The features of the study toolbar are so varied and significant that they are described in a separate chapter of this manual. See the Study Toolbar chapter for full information on adding, editing, deleting and applying studies listed here.