Tomorrow's Newspaper (the Online Newspaper) is accessed in either of two ways:

1) To automatically view the online newspaper following each daily update, the "Display Daily news through web browser" entry must be selected on the "Distribution 1" screen under General Program Settings of Preferences as shown here: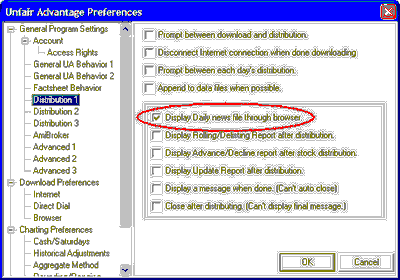 2) You can select "Read Tomorrow's Newspaper" from UA's Trading Tools menu as shown here: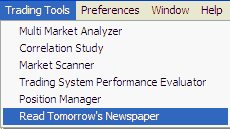 Simply click the "Trading Tools" menu at the top of your screen, then click "Read Tomorrow's Newspaper." This will engage your web browser and direct it to the appropriate page on the CSI website. If your computer is not already online, you'll have to go through that process first.

This is a password protected site, but depending upon the version of your browser, the necessary information may be supplied automatically. If not, a screen much like the following will display: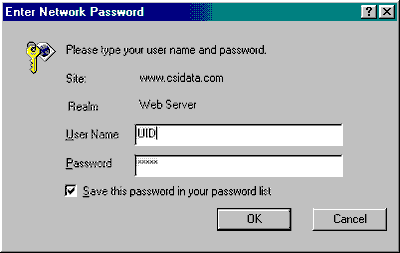 If this screen displays, enter your User Name and Password as follows: For "User Name," enter your CSI User ID in all CAPITAL LETTERS (three letters). For "Password," enter your CSI User Number (a five-digit number). If you aren't sure what these are, go to UA's "Preferences" and click "Account." Your User ID and User Number will display.

Note that Tomorrow's Newspaper is available only to those CSI subscribers who have requested and paid for this premium service.

See Troubleshooting if you have problems accessing the online newspaper.

Here is an example of the introductory screen: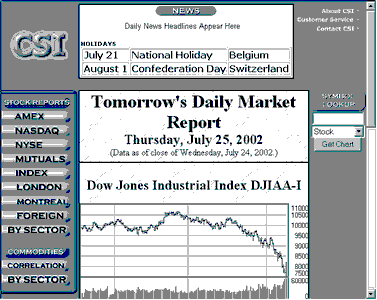 The date at the top of the screen is tomorrow's date - relative to the data supplied. Of course, if you wait until the morning after release to view this data, then the date is simply the current day. It would correspond with today's newspaper.

This screen offers four major features:

The News box at the top of the page shows headlines and holidays. The headlines are links to articles published by various reporting agencies. Click on any headline to reach the appropriate website to read the article. As the headlines are intended to be timely and links may quickly become outdated, we do not keep an archive of past postings. To return to a featured article, you should bookmark the source website before exiting. News headlines are updated around 3 p.m.

The center panel of charts lets you scroll through the major stock indexes (Dow Jones Industrial Average, S&P 500 and NASDAQ Composite Index) for a quick look at today's action.

In the upper right is a text box where you may select a commodity or stock to display as a two-year chart. See the next topic for details.

Under the CSI logo (at left) is a series of buttons that let you view stock and commodity reports. These let you view Stocks by Exchange, Stocks by Sector, or Commodities by Sector. Each of these choices is explained in subsequent topics.

There is no longer any reason to wait until tomorrow to review the market progress for today. UA will give you the necessary information today to make decisions for tomorrow, allowing sufficient time to consider the opportunities before you.

"Tomorrow's Newspaper" is posted daily at around 8:30 p.m. Eastern Time. This allows time for the CSI host computer to produce the results.