The Access Rights screen, found under "Account" within General Program Settings (from the Preferences screen), shows you what has been arranged between you and CSI in terms of daily updates and accessible history. Your CSI Access Rights are verified on the software with each daily update. They define specifically which market classes and services are included in your UA subscription as shown.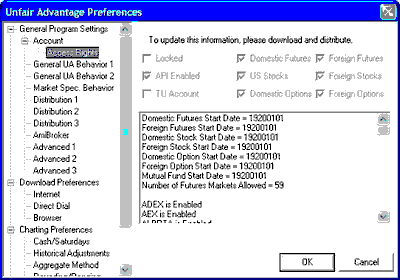 The current properties are:

Locked - UA is shipped with a locked database. If checked, your database is inaccessible through UA. Collect an update to correct. If updating does not unlock the database and it has been more than two months since your last update, you'll need to order a new CD from CSI.

API Enabled - UA's Application Programmer's Interface provides a formatless format for easy manipulation of downloaded data outside of the UA environment. Click "OLE API Documentation" and "Developer's Document" from the UA program group on your Start menu for more details on this feature. If API enabled is not checked and you would like to use this feature, please contact CSI Marketing at 1-800-274-4727 or (561) 392-8663. There may be an extra charge for API access.

TU Account - If checked, this indicates you are using a limited-access test account.

Domestic Futures - If checked, your daily updates include all futures, commodity and cash markets in North America, as listed on the CSI Factsheets.

US Stocks - If checked, your daily updates will include all US stocks, funds and indices.

Domestic Options - If checked, your daily updates include all available options for U.S. futures and/or stocks, as listed on the CSI Factsheets.

Foreign Futures - If checked, your daily updates will include both domestic futures and all foreign futures/commodity and cash commodity markets listed in the Overseas Factsheets.

Foreign Stocks - If checked, your daily updates will include those foreign stocks, indices and funds included in the CSI Database. Consult the Fact Sheets for a complete list.

Foreign Options - If checked, your daily update will include all non-U.S. options in the CSI database.

Additional information about accessible historical data for the various market categories displays in the box below. The start date for each type of market is shown in a yyyymmdd (four-digit year, two-digit month and two-digit day) format. Click the scroll arrow at right to view the list of enabled exchanges. All of the information here can be remotely changed by CSI. Please contact CSI's technical support or bookkeeping staff if you would like to purchase access to additional historical data or exchanges.

If you believe any status item is in error, or wish to make a change, please contact CSI marketing at 1-800-274-4727 or 561-392-8663; E-mail: info@csidata.com. Before calling, please collect a daily update to make sure you have the most current information.

Important Note about database subscription categories


Your subscription category refers to the scope of data retrieved in your daily updates, such as "Domestic Futures," "US Stocks," etc. Ideally, the correct database(s) will be arranged with CSI during your subscription process and before your first update. Feel free to call and confirm your subscription category before updating to avoid any problems with this issue. If your Account Status does not show the correct database AFTER your first retrieval session, please call CSI to make the correction. Please allow about ten minutes for CSI to make this change.

When the subscription category is changed, UA will detect a change from one category to another and automatically retrieve the missing days to fill any gap in your new database (up to two months). However, if you add a database category to your retrieval status (changing from Domestic Futures only to both Domestic Futures and US Stocks, for example) you'll need to manually change the "General Collection Date" on the Download Preferences screen to fill the gap. Please ask Technical Support to help you with this.


---
This topic completes the "Downloading Data" chapter.


Please see the "Data Distribution" chapter for important information on processing the data you retrieve from CSI.