You may upgrade your Unfair Advantage in either of two ways. You can either get a new CD ROM that includes the full database and software (a fee will apply) or you may download upgrades, usually just of program files, over the Internet. Each of these procedures is explained here.

Installing an Upgrade CD


An upgrade CD is the same as you would receive upon opening a new CSI account. A full version of the latest software, plus a database appropriate to your subscription will be included. Before installing from your new CD, we recommend that you first back up your current UA installation in case a problem occurs. See Backing Up Your UA for details. Once the software is backed up, insert the CD ROM and wait for it to launch. UA will likely ask you to uninstall your previous version before proceeding. Follow the screen prompts on the Uninstall Wizard to accomplish this. Once the uninstall in complete, you must begin the installation again. Follow the prompts in the Installation Wizard, just as you did when you loaded UA for the first time. See "Installing Unfair Advantage" for specific instructions.


Downloading Upgrades


CSI maintains a website where product upgrades can be downloaded, either with or without database files.

Most software upgrades to obtain enhancements or to correct program errors are available free of charge on the UA Updates page (under Customer Support) of CSI's website at http://www.csidata.com. These files are available for download at your own discretion. You may be advised by a Technical Support representative to download one of these files to correct a problem. We recommend that you check the UA Website once per week or so and download all enhancements to make sure you have the latest version. The website upgrades are frequently updated and are identified with a version number.

We strongly recommend saving a copy of your UA directory before installing an upgrade! This will allow you to return to the previous version if there is a problem with the new one. It will also make it possible for you to restore your customized portfolio and factsheet specifications without re-entering them! Please see "Backing Up UA" for specific instructions.
If you require a full UA system including the database, this is also available for download from the CSI website. However, you must first have clearance and receive a URL address from CSI before you may execute this download. Please contact CSI technical support for assistance. E:mail support@csidata.com
or telephone 561-392-8663.
Important note: Running UA loads certain DLL files into your computer's memory, which can interfere with new versions. Therefore, before installing an upgrade of UA, please exit the Unfair Advantage program and restart your computer. After downloading the upgrade, exit your browser and restart your computer again before running your new UA upgrade.

Before beginning, write down your User ID and User Number (from the Account screen of "General Program Settings" under Preferences) and save a copy of your portfolio (portfile.adm) file. You will need to enter them into your new software.
To download the latest UA version, use your web browser to reach the CSI Home Page on the Internet. The URL address is:
http://www.csidata.com
. The CSI website offers many features for active and potential UA subscribers. Click UA Updates under "Customer Support" from the Main Menu (at left on your screen). The latest version will be listed at the top of the page.



This is an example of the Update Screen. The version numbers will advance periodically, and may not match the one shown here.

Click on the appropriate link to update the latest release, which will bring you to a page with more options. The selection page may offer either an Update or a Full Version of the latest UA.

An "Update" version does not constitute a fully functional UA system. These versions do not include database files, nor factsheets, nor other essential elements of the UA system. DO NOT UNINSTALL UA before using an "Update" from the website!

The "Download Full Version" option provides all necessary files, including the stock and commodity databases (excluding options). If you have a high-speed modem, and do not have the necessary requisites for using a simple Update, then you can replace your current UA with the full version. Another alternative is to order a CD from CSI, for which there is a nominal fee.





Once you select a version, a description of that version is displayed. It includes a listing of enhancements and all known problems. Please read this over carefully to determine if you wish to upgrade at this time. If so, click where indicated to download the program.

Your browser will indicate that the file cannot be viewed and ask if you want to save the file or open it. Choose SAVE and click OK.
Next you'll be prompted for a filename with a standard SAVE AS dialog box. Use the default filename, which reflects the current version number (don't change it).

Your browser may attempt to save the file in the briefcase, a Temp directory or other inappropriate location on your drive (as shown below).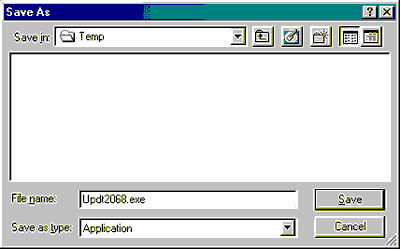 If this occurs, click the arrow symbol at the right of the default directory to drop down a menu of other locations.

Double-click the drive letter of your hard drive (probably C:) and the available folders will display as in the example below. Change the directory to your UA folder by scrolling through your directories and double-clicking the UA folder. Once there, click "Save."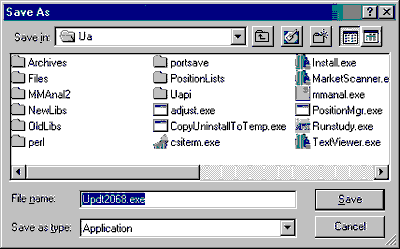 The File Download dialog chronicles your progress. The "Estimated time left" is likely to be WAY off! Our sample run started off indicating a seven-hour download, and within half an hour was down to "52 minutes." The entire download took about an hour.

When the download is complete, disconnect from the Internet as desired.

Installing Upgrades

(Be sure to preserve a backup before installing an upgrade!)

As noted on the website, you should always install upgrades on top of your current UA, without uninstalling previous versions or starting over in a new directory. This is because most (but not all) UA files are overwritten. Your database files are not affected by software upgrades UNLESS you uninstall your UA or you install a full version of the software. We do not recommend uninstalling UA unless you are re-loading the software from a CD or terminating service.

In most cases, your software upgrade does not become functional until you execute the program you downloaded, which, in turn, installs the updated version. To install your upgrade (after downloading it), click your computer's "Start" button and go to "My Computer." Navigate to the UA directory as you did when saving the program (above).

Within the UA directory, look for the file you just saved. It is most likely a UA version number with a .exe extension. Double-click the upgrade file to execute it. This will install the program.


Customizing Upgrades


Once your UA upgrade is installed, you should exit your Browser and restart your computer. Start UA as usual and enter your Authorization codes (if prompted). Depending upon scope of the upgrade, you may have the option of retaining (not overwriting) your previous portfolio, factsheet files and settings. If you choose to overwrite these, you can enter a new portfolio or you might restore your previous portfolio (if you saved it).

You must download quotes to unlock your database before proceeding.